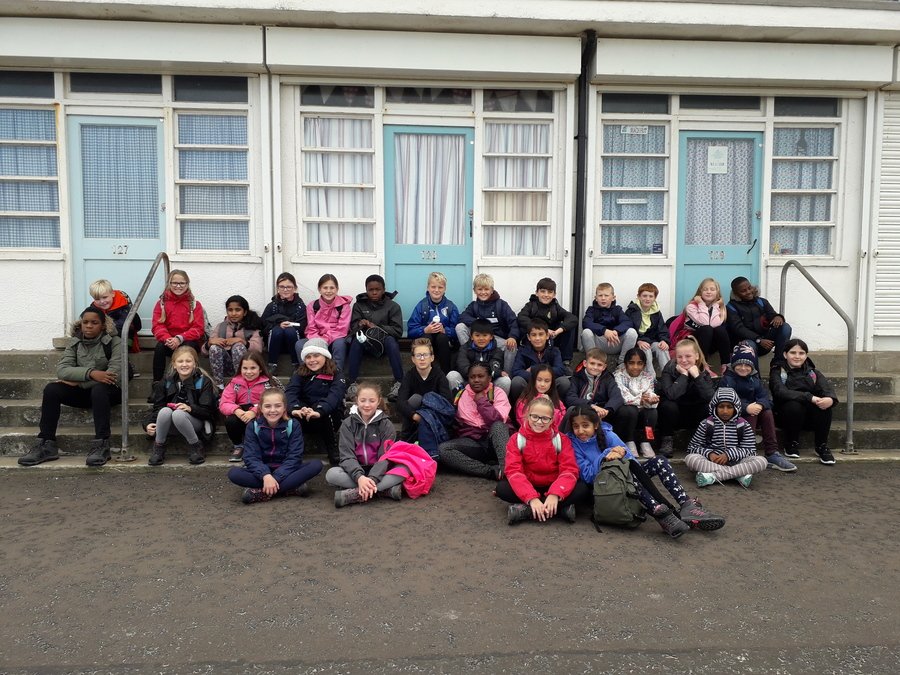 Our Curriculum theme Summer Term
Incredible Journeys: exploration, endurance and extraordinary existences
This week we used different art media to create a 3D representation of a person exercising using Keith Haring as inspiration. Here are our finished and unfinished masterpieces. Some are dancing, some are gymnasts and one is even doing the limbo! Can you tell what sport or exercise they represent?
This week we explored the effect of a good diet and exercise on our diet. We looked at an artist, Keith Haring, as an influence on moving our bodies for 60 minutes every day. We recreated art in this style, showing movement, as well as completing our own movements! The artwork outcomes are INCREDIBLE - the children replicated his techniques and each individual piece had its own meaning. Well done Year 6 - what incredible art inspired by our Science!
We have continued our theme of journeys around the body today and explored the heart. We learned the parts of a heart and its functions. Then we made a clay heart as well as making up a song! Have a look at some of the awesome hearts we made.
As part of our art and maths we explored tessellation and art by M C Escher. We made our own tessellations and added colour, inspired by Escher's work.
As part of our Science learning, we explored the components of our blood and their function. We made not so smooth blood smoothies, adding ingredients to represent the cells and discussing what they do! We were so amazed at what is inside our blood and how it works!
To kick start our theme, we focused on the Earth- the place we explore- on Earth Day. Did you know it was the 50th anniversary of earth day this year? The children watched a video as part of their online learning, from Cafod, then designed a machine to tackle climate change. They also wrote Haiku poems about the earth and climate change, using poetic features and the syllabic pattern of 5, 7, 5.
As part of our online learning, Year 6 have looked at some explanation texts. They designed their own machines to help stop climate change and explained how they worked. Here are some examples from our class.
Homework for w.b 16.3.20 available here
In Science, we looked at the beaks from Darwin's finches and thought about how these birds adapted and evolved to survive in their environments. We then became the finches: some with large flat beaks and others with small thin beaks. We kept it a fair test by only changing 1 variable: the type of food. We repeated each experiment three times for accuracy/ precision and calculated the mean number of 'seeds' we got.
It's been World Book Week at St Teresa's, including dressing up as our favourite book characters and designing a book character spoon for the whole school competition. The spoons were incredible; it was clear to see how much effort so many of you put into it! Sarah Siggs (author of Mud Boy) came into our class to discuss her book, the meaning and being an author. We asked many questions and gained a greater understanding as to how her book came about.
Homework week beginning 9.3.20 here
Homework week beginning 3.2.20 here
Welcome back after the holidays! Homework available here
Homework w.b. 10.2.20 here
On Thursday, some former pupils came into year 6 to discuss transition to secondary school and answered all of our questions. Thank you to the 4 pupils, they were incredibly informative and explained every detail to calm nerves. Year 6 left the class buzzing about secondary school.
We've been developing our art skills in Year 6 - they are such a talented bunch of artists! We've continued our study of Georgia O'Keeffe and her love of nature. We looked at her images of mountains and applied her style to creating the Andes mountains of Ecuador in oil pastels. Here are some of our finished works.
In science we have been studying a scientific Great - Carl Linnaeus and his classification system. We became experts in classifying today and classified and well respected 'species' - sweets! We thoroughly enjoyed classifying them by their characteristics, linking our knowledge of classification. Unfortunately, our species are now extinct and only photographic evidence remains!
Year 6 have been looking at Georgia O'Keeffe's art, studying her love of nature and bold colours. We applied this to our own sketch and paintings of orchids, flowers that naturally grow in the Amazon basin. The artwork is just AMAZING, so amazing that Mrs Kelly's hallway is now filled with orchid paintings from year 6. Can you spot the bold colours, the close up view of the flower? The tones and impact of light and shadow on the petals?
We've been developing our sketching skills this week, looking at real flowers. We looked at flower images by Georgia O'Keeffe and thought about the way in which she details flowers, the colours and the scale. We had a try at sketch an orchid, a flower that naturally grows in Ecuador, before enlarging it in the style of Georgia O'Keeffe. Here are our sketches so far. I'm sure you'll agree, we have very talented artists in Year 6!
Our new theme this term is Ecuador, the country most similar in land mass to the UK. We started our topic with a treasure hunt, using geographical enquiry skills to discover if the images were UK or Ecuador. We compared them, deciphering which country it could be, identify physical and human features. Some we were most surprised about!
Today we visited the Saatchi Gallery to see the lost treasures of King Tutankhamun. We went on a historical journey of magic, going through the afterlife that King Tut himself would have gone on. We studied the art, the history and marveled at these 3000 year old treasures. We couldn't quite believe the colours used, how bright they were. We linked our prior knowledge and historical skills, including historical empathy. How would it have felt to travel into the underworld as a Pharaoh?
Mummification Day
Today we mummified oranges to replicate the process we know from primary and secondary historical sources. We followed the processes, with a few alterations, to see what a difficult and pressured job it was. We used our historical empathy to identify how we felt and how embalmers would have felt 3000 years. We compared mummies from 1000bc to 50bc and saw how over time they changed and practice made perfect. Many of us felt honored but also felt the pressure of mummifying a pharaoh. How would you feel mummifying a pharaoh knowing Ra would be watching?
Careers Afternoon 2019
Today we interviewed adults (with some very difficult questions) from different professions, thinking about commitment, roles, responsibilities and how God guides us on our own vocation. Some of us were truly inspired this afternoon into professions we didn't think we'd want to do! Thank you Mr Brotherton, Father Tom, Mrs Abrams, Mrs Chato, Mrs Elechi, Mrs Bailey and Dr Clarke for inspiring young minds and enabling them to reflect on their own journeys God has set out for them.
Interviewing Paschal and Joe on their journey into the priesthood, their calling and their commitment to God. We sang 2 songs about our love for God, reflecting on God's love for us and our unconditional love for Him.
2020 is the Year of the Word. To celebrate this, Paschal handed out each child in the school a Bible, to share the word of our Lord at home.
Film festival 2019- watching Stan and Ollie.
Today Year 6 visited BT Adastral Park for a 'Rescue Simulation Taster' using coding and STEM skills. We worked in 3s, following instructions accurately to code our buggies: earning points and avoiding the pits! We had an amazing day, well done to I and D for coming second out of the 150 participants there today!
I was delighted to visit Year 6 today where they were having a very cross curricular day incorporating science, STEM, history and DT making an alarmed pyramid to stop/prevent tomb raiders. It was a delight to talk to the children who were very eloquent about their learning experience, how difficult some had found it, but how brilliant they felt when they accomplished their task through trial and error. Well Done Year 6 - Mrs Forsyth
In science this week we have been learning about circuits. We have studied the way adding more bulbs to a circuit affects the brightness or by adding more motors, then the speed will be effected. We have drawn circuits accurately using symbols to represent the circuits we have made.
We are now on our way back to school!
Today we had an amazing two course breakfast followed by an intense packing session! Then we went to Aylmerton Centre to complete woodland activities based on our five senses including sight, sound, touch a smell. We thought about what it was like to be animals using these senses. E and N
Today we've been visiting some local residents at Blakeney Point. We looked at how Blakeney Point is change due to long shore drift and walked back to the coach... through the mud flats! More photos to follow later!
We're bowling tonight! We have used our 3 'ates' for teamwork: communicate, co-operate and encourage your mate even when bowling. Well done to our bowling champions: R, Y, E, A, I and I!
We continued with our theme of team work on the monster trail after lunch. We accumulated points, and in some cases lost points, for following instructions and working as a team. We completed the Monster Trail in good time, finding the 'monsters' in the woods. We had to use our maps skills by using a compass to locate true North, then find the direction we want to travel. We were definitely stumped at some points!
The sun was shining upon us today, at last! Today we were team building at the lodge. We were using communication, co-operation and encouragement to go through a spider's web, flip and fold and defusing the bomb using clues! Some of us found it hard to speak up but became more confident as the day progressed. We listened to ideas and realized that by working together, taking turns and listening to quieter members of the team, we can be very successful.
We were on the rainy Broads (a slight change to the weekly timetable due to the rain) looking at the impact of rising sea levels and how it will impact homes and wildlife . We all had a go at driving the boats and enjoying the wildlife views. Later on, as the rain started and the wind started up, we went to Happisburgh to see the devastating effects of coastal erosion on the village. We saw how an entire holiday village of caravans was destroyed as well as people's houses. We were shocked, particularly Mrs Dyball and Mrs Kelly who have seen the coast erode a lot over the years of bringing past students here.
Now we're back in at the lodge, watching a film in our pjs and duvets (and eating our film night snacks) before bed. Even though there was a lot less walking today due to the rain, we seem a lot more tired! We will post more photos tomorrow!
At the end of a very long walk we explored the rock pools. We found anemones, crabs (large and small) and fossils of ancient sea squid tentacles! Not only have we had a fun filled first day on our residential, we also learned lots about coastal erosion and how the different rocks came to be on our island of Great Britain.
As we walked along the beach, we noticed a buried pill box which showed erosion. We spotted the caravans near the edge of the cliff and we showed how rain and sea can erode the sand cliffs and impact on the buildings.
Today we walked all the way from Cromer to West Runton. We looked at the eroding cliffs and the slumps of sand that have fallen from the cliff. The erosion was caused by ice, water and animals. It was impressive to see how much sand and rock has eroded. Daniel B
And we're off to Aylmerton!!!!
Developing our RE through art. Today we studied the Prodigal Son by Guercino and Murillo. We discussed how the artists showed unconditional love and forgiveness. Then we recreated it through different art mediums. A group of children then decided to turn their photography into a film.